We inspect NHS and independent healthcare services in Wales to check people are receiving good care
How we inspect
Our inspections of healthcare services may be announced or unannounced.
We look at how services: 
Comply with regulations
Meet healthcare standards 
Meet other legislation, professional standards and guidance as applicable. 
We use the regulations and standards to make judgements about the quality, safety and effectiveness of healthcare services.
What happens after our inspections?
After our inspections we will: 
Write an inspection report and publish it on our website
Require services to make improvements where necessary
Decide if we need to take further action to follow-up on issues identified during an inspection 
Continually monitor all the information we hold about a service, from our inspections, the public, healthcare staff, healthcare services and other organisations and decide what action we need to take 
Our types of inspection reports: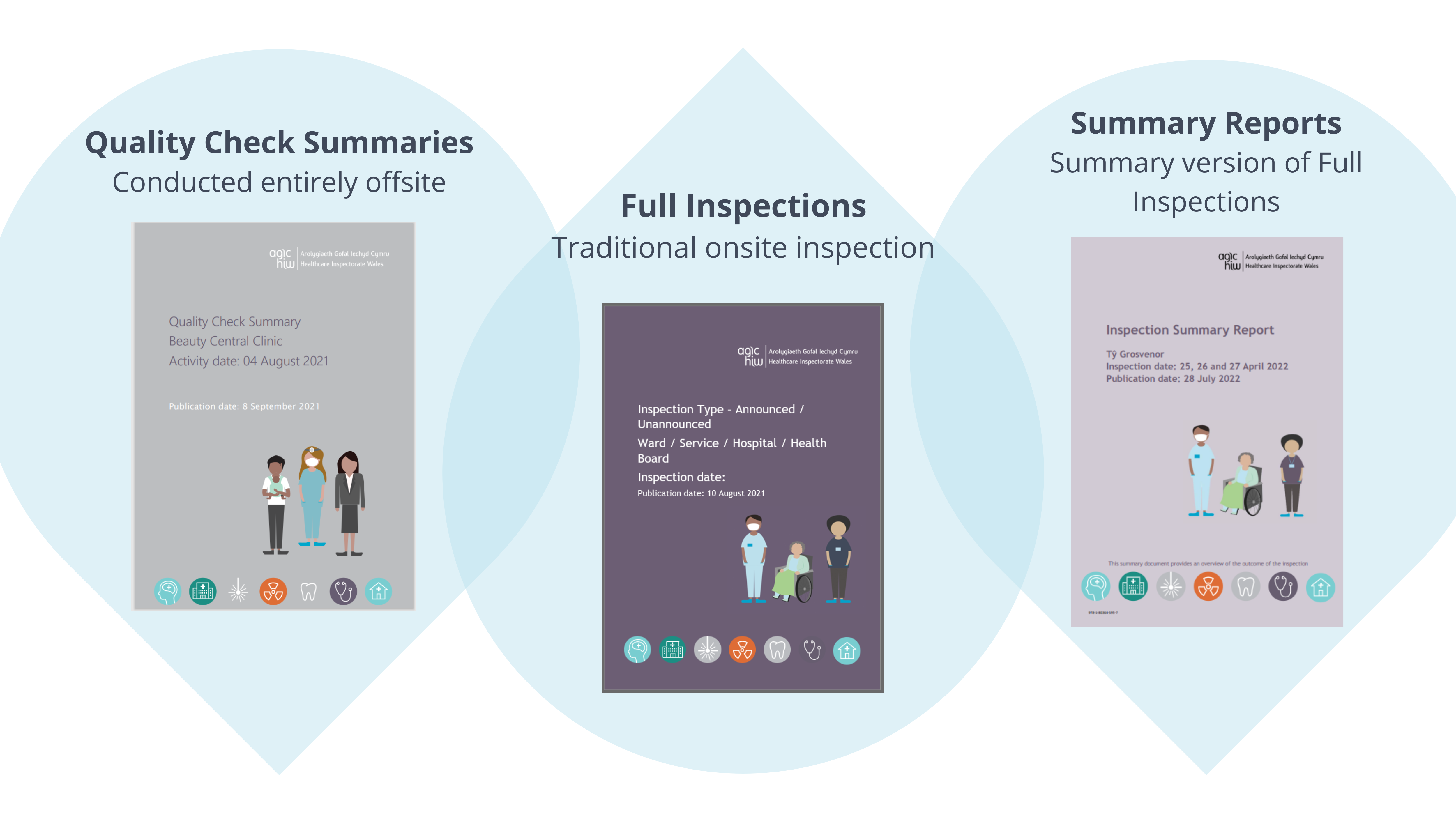 How we report
We report and publish our findings from our inspections under three themes: 
Quality of the patient experience: We speak to people about their experiences of care
Delivery of safe and effective care: We look at how services provide high quality, safe and reliable care for patients
Quality of Management and leadership: We look at how services are managed and led and how they check their own performance against relevant regulations, standards and guidance.
Changes to Publication Handling
We have revised our publication policy which sets out our intention, for certain types of inspection, to provide details of its findings to the media and other key stakeholders, in advance of publication and under embargo.
We will follow this process for inspections of Emergency Departments, Maternity Services, and inpatient Mental Health Units regardless of whether the inspection findings were positive or negative.
We will continue to promote the reports on the day of publication via our own social media channels and via our website.
We will also use this process for other types of inspection where there are findings of a significant nature. Again, the introduction of this process meets HIWs strategic commitment of driving system and service improvement within healthcare.
If you would like to display our contact details at your healthcare setting, please use the poster below