Vascular Services in North Wales are de-escalated as a service requiring significant improvement by HIW
Published 29 Jun 2023
Today, a report has been published by Healthcare Inspectorate Wales (HIW) in relation to vascular services provided by Betsi Cadwaladr University Health Board.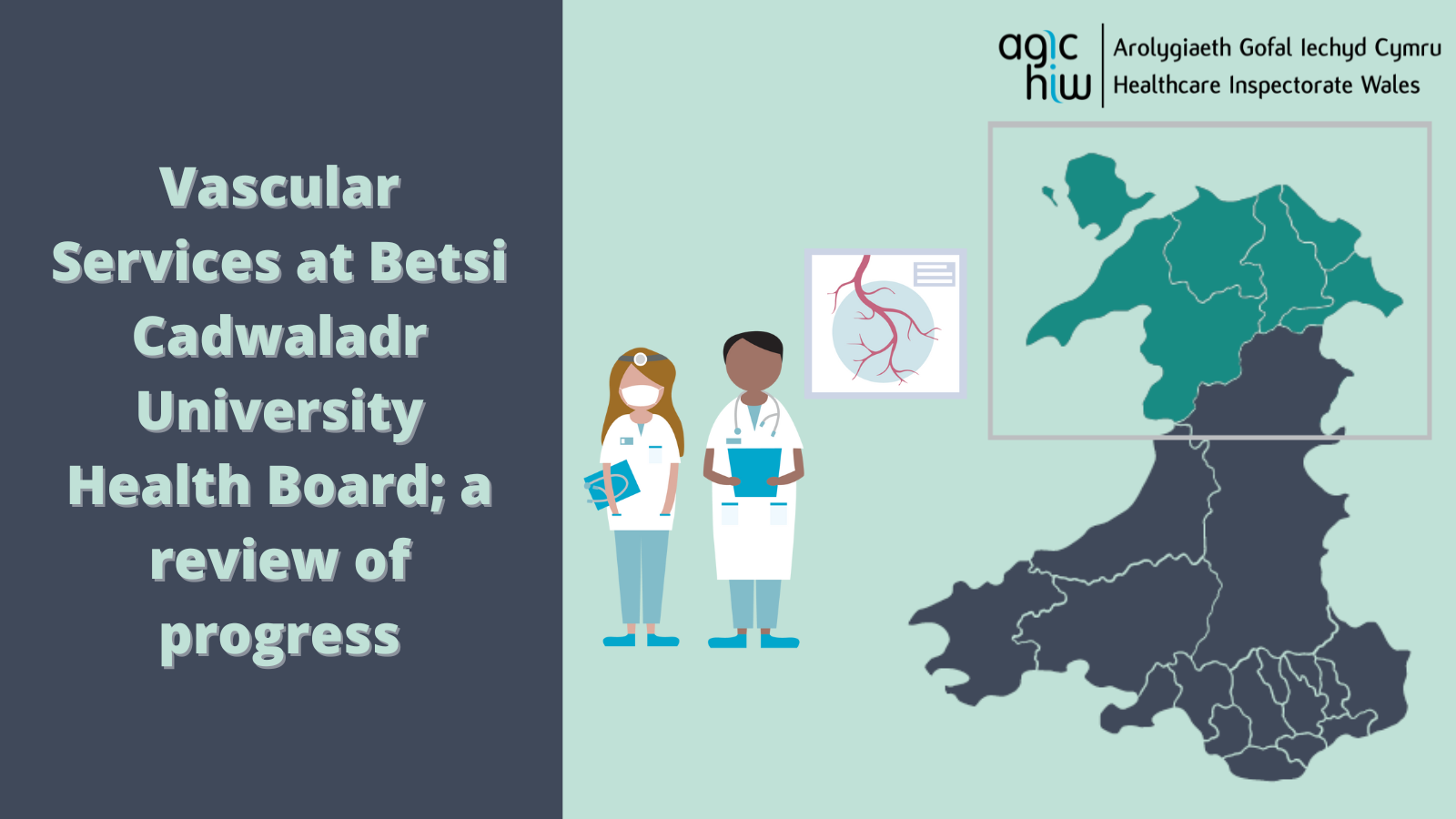 The report follows the de-escalation of these services, as a Service Requiring Significant Improvement (SRSI). HIW's SRSI process aims to identify service failures, to drive forward urgent improvement. The review found evidence of progress in relation to patient safety and the quality of care being provided, which enabled the de-escalation.
The decision to undertake the review followed the publication of the Royal College of Surgeons of England (RCS) Report in 2022, which made several immediate recommendations in relation to patient safety risks. Our review recognised that satisfactory progress has been made against all nine recommendations made by the RCS. It is evident that efforts have been made by the health board to implement processes and make improvements within its vascular services, with the aim to provide safe, timely and effective care to patients. Whilst this is a positive step, there is a need for the health board to maintain the momentum it has generated to continue to improve the service.
In April 2019, the health board changed its model of care for vascular services, where the most complex procedures, such as major arterial surgery, is conducted at a specialist centre based at Ysbyty Glan Clwyd. The aim is to ensure that patients within the health board have equal access to vascular services, regardless of where they live, and that surgery is prioritised to those who need it most urgently.
During our review we explored whether the actions implemented by the health board had addressed the recommendations made by the RCS and improved the quality of care being provided. We also considered whether vascular care was consistent.
Satisfactory progress has been made against nine recommendations outlined by the RCS review team in 2022, and prompt action had been taken to address the five urgent patient safety risks. Further work is still required to strengthen some aspects of clinical record keeping, and to ensure a patient's journey through the vascular pathways is consistent and robust. The health board must ensure the quality of written communication is sustained, and records are filed in a timely manner and in chronological order, to maintain patient safety. A Vascular Quality Review Panel was set up by the health board to undertake further scrutiny of patient records who were reviewed by the RCS. This has led to new information being identified and resulted in the health board referring four people to the coroner.
Through our review, we found the health board has made satisfactory progress with the recommended improvement for Multidisciplinary Team (MDT) decision making. An MDT is a group of healthcare professionals from different specialties, such as surgeons, anaesthetists, nurses or physiotherapists, who work together to make decisions regarding the treatment and care of a patient. Inspectors also found immediate action had been implemented within the vascular surgery service, which including enhanced consultant cover and closer MDT decision-making support. Although marked improvements have been made, further work is required for the health board to ensure MDT discussions are always filed promptly within clinical records.
Our review highlighted concerns with the culture of working between some teams involved within different care pathways of the health board's vascular services, which may impact on patient care. This was evident through our interviews with staff, who suggested there was poor communication. Clearer working relationships must be established, to ensure that patients are being referred promptly, and patients are assessed by the most suitable team, to provide more timely advice and care.
We found that satisfactory progress has also been made by the health board for the consent-taking process within vascular services. We found evidence of improvements through consent process audit results, and through our clinical records review. However, further work is required to ensure the records always demonstrate the entire consent process accurately and appropriately.
When we explored whether the governance arrangements in place within the health board were effective in monitoring the response to the RCS findings in 2022 and their recommendations, we found these to be satisfactory.
Healthcare Inspectorate Wales Chief Executive Alun Jones said:
It is positive to hear vascular services are improving in a number of areas. However, our review did make eleven recommendations for further improvement to strengthen the current arrangements in place. The health board must ensure measures are in place to assure itself that the improvements and processes implemented since the RCS review are sustainable now and in the future. The health board must consider our recommendations, and it is our expectation that these are taken forward in the context of broader improvement work.